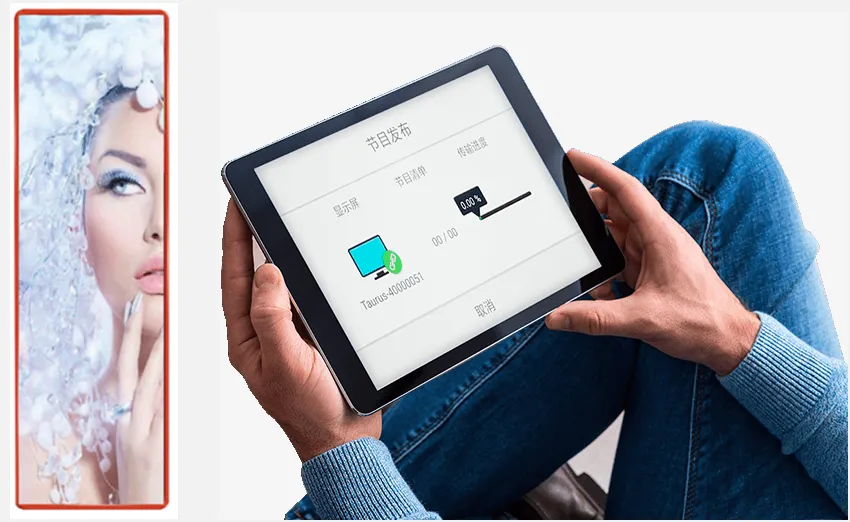 Ultra-thin and lightweight
The LED poster is engineered with the latest technology to make it smoother and slimmer. It is made of beautiful anodized lightweight and durable aluminum, making the weight of the entire poster frame less than 35kg, making it lighter and easier to install.
Plug and play
Enjoy the privilege of using LED posters to watch or filter your own video, audio or picture playlist anytime, anywhere. Update your digital content in our powerful built-in media player via WIFI or USB. Easy-to-follow on-screen menus allow you to easily plan content without complicated configuration.
Front-end maintainability
The maintenance of the LED poster screen is very fast and very easy. You will love the convenience of repairing and replacing the panel module from the front with only a handle magnet. This method is dedicated to your LED poster.
Intelligent management
The pre-integrated software of the LED poster screen allows you to connect it to a PC or Android device from a single location via RJ45, WIFI, 3G, USB and HDMI. With these, LED posters can easily identify your display and manage settings such as brightness and contrast. You can play content directly on your laptop, tablet or smart phone via the device. It can perform centralized video control and management through the Internet. Since you can project video remotely without on-site control equipment or a PC, you can manage and monitor the video comfortably from the office, so you can increase efficiency.
Multiple display modes
The design method of the LED poster is not only standing, but also can be installed by hanging, side and wall and other display methods. These enable you to display products in various marketing methods to suit your interior design and decoration.
Case diagram
案例图